Air fryer crinkle cut fries are the perfect way to enjoy diner-style crunchy fries at home with less guilt and mess. These frozen favorites crisp up quickly in the air fryer with no need for oil.
If you love snacking on crispy Ore Ida crinkle cut fries, an air fryer is about to become your new best friend. Using rapid air circulation technology, air fryers yield crispy crinkle fries with a fraction of the oil needed for deep frying. In just minutes you can enjoy restaurant-quality crinkle cut fries from the comfort of home.
Can you cook frozen Crinkle fries in the air fryer?
Oh yes, and they are so good! Who doesn't love a plate of hot, crispy crinkle cut fries? This classic side dish is a staple at burger joints and backyard barbecues.
While deep frying yields an equally crispy result, it requires a lot of oil and can be messy. Luckily, you can make perfect crinkle fries right in your air fryer with no oil! Read on to learn why air fried crinkle fries should be your new go-to.
Loving our air fryer recipes, you should try this crispy air fryer bacon and air fryer pasta chips next.
Why you'll love this
They're Crispy Outside and Fluffy Inside: The intense heat of the air fryer yields an ultra crispy exterior while the inside stays pillowy soft. Air frying also extracts moisture, giving you crunchy fries without the greasiness of deep frying.
You Use Way Less Oil A light mist of oil is all you need to air fry crinkle cut fries to perfection. Unlike deep frying which requires quarts of oil, air frying slashes calories and fat
Quick and Easy Cleanup: With essentially no messy oil, cleanup is a breeze. The fryer basket and any pans go right in the dishwasher after use.
Customizable: Get creative with toppings by making pub fries or nachos with these fries.
What you'll need
A bag of frozen crinkle cut fries. I used Ore ida, feel free to use your favorite brand.
Dipping sauce or sides of choice.
Recommended Tools
The links below may contain affiliate links. As an Amazon associate and affiliate to other merchants, this website may earn from qualifying purchases. Please read our full disclosure.
Air fryer
How to cook frozen crinkle fries in air fryer appliances
This is an overview of the recipe with step by step photos. Scroll down to end of post for a printable recipe card with the amount of ingredients and full recipe instructions.
There's really not much to it. It's simply dump and air fry till golden and crispy. Set the timer for 400°F (200°) and air fry for 12 to 15 mins. Shaking the basket at 5 min intervals to ensure even cooking.
How to store and reheat
Allow fries to cool completely before storing in an airtight container for 2-3 days. To reheat, place back in the air fryer at 350 degrees for 4-5 minutes until warmed through and crispy.
FAQs
How long do you cook frozen crinkle fries in an air fryer?
Cooking time can vary based on amount and air fryer settings. Generally, I cook air fry frozen crinkle fries at 400°F for 12 to 15 mins. Feel free to add more time if needed. Check frequently until golden and crisp.
What is the best temperature to air fry frozen fries?
400°F is ideal for achieving crispy air fried crinkle fries. You may need to adjust time based on amount. Start checking after 12 minutes.
How do you keep frozen fries crispy after cooking in an air fryer?
For frozen foods I usually recommend you reheat the quantity you will consume at a time and eat immediately.

However if you find that you have leftovers, let fries cool before storing in an airtight container. Reheat in the air fryer at 350°F to restore crispness.
Should you preheat an air fryer for frozen fries?
No, the air fryer heats up pretty quickly, in my experience I have found that preheating isn't necessary.
Can I cook frozen crinkle cut fries in a Ninja air fryer?
Definitely! You can cook these in a Ninja air fryer or any air fryer you have. Just make sure to check frequently if it's your first time trying out a recipe because all air fryers cook differently.
Helpful Tips
No need to preheat the air fryer.
Cook in batches if needed do not overcrowd the air fryer.
Some brands of frozen fries are not seasoned. You might want to sprinkle on some salt after air frying.
Shake up fries or toss with tongs midway through cooking to redistribute and and ensure even cooking.
Thank you for visiting our Virtual kitchen! If you found this recipe helpful, please leave a comment below and don't forget to share this recipe with family and friends.
Happy Cooking!
Love it? Pin it! Remember to follow @DeliciouslyHomeCooked on Pinterest for more recipes!
Looking for more tried and tested Home-cooked recipes? Sign up for our Deliciously Home Cooked Newsletter and Follow along on Facebook, Instagram, Pinterest.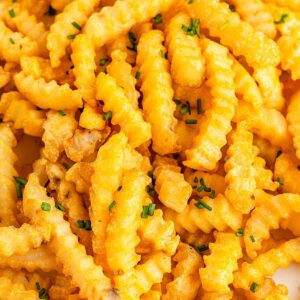 How to cook frozen French fries in the air fryer
Air fryer crinkle cut fries are the perfect way to enjoy diner-style crunchy fries at home with less guilt and mess. These frozen favorites crisp up quickly in the air fryer with no need for oil.
Ingredients
16

ounces

crinkle cut fries
Favorite dipping sauces: choose from
ketchup

bbq sauce

ranch

garlic aioli
Instructions
Add the frozen fries to the air fryer basket in batches if needed, spreading them out in a single layer without overfilling.

Air fry at 400°F for 8 minutes initially.

Remove basket, flip fries with tongs, and return to air fryer.

Cook for 4-7 more minutes until crispy and golden brown. Check frequently and adjust time as needed based on thickness.

Once done, season with salt, pepper, cajun or garlic powder if desired.

Garnish with fresh herbs and serve immediately with preferred sauces.

For best results, eat right away. To reheat, air fry again at 400°F for 4-5 minutes.
Nutrition
Calories:
150
kcal
Carbohydrates:
24
g
Protein:
1
g
Fat:
6
g
Saturated Fat:
1
g
Nutrition Disclaimer
Nutritional information is an estimate and may change based on products used. Please read our Nutrition disclaimer page for more details.