Pomegranate Lemonade is one of our favorite wintertime lemonades that we also enjoy during the summer. This easy lemonade with pomegranate is one you'll make over and over because you and your family would love the taste of this homemade exotic juice.
Pomegranates and lemons are fruits that are packed full of vitamins and nutrients that are good for you. Let me show you how to make this juice in super easy steps.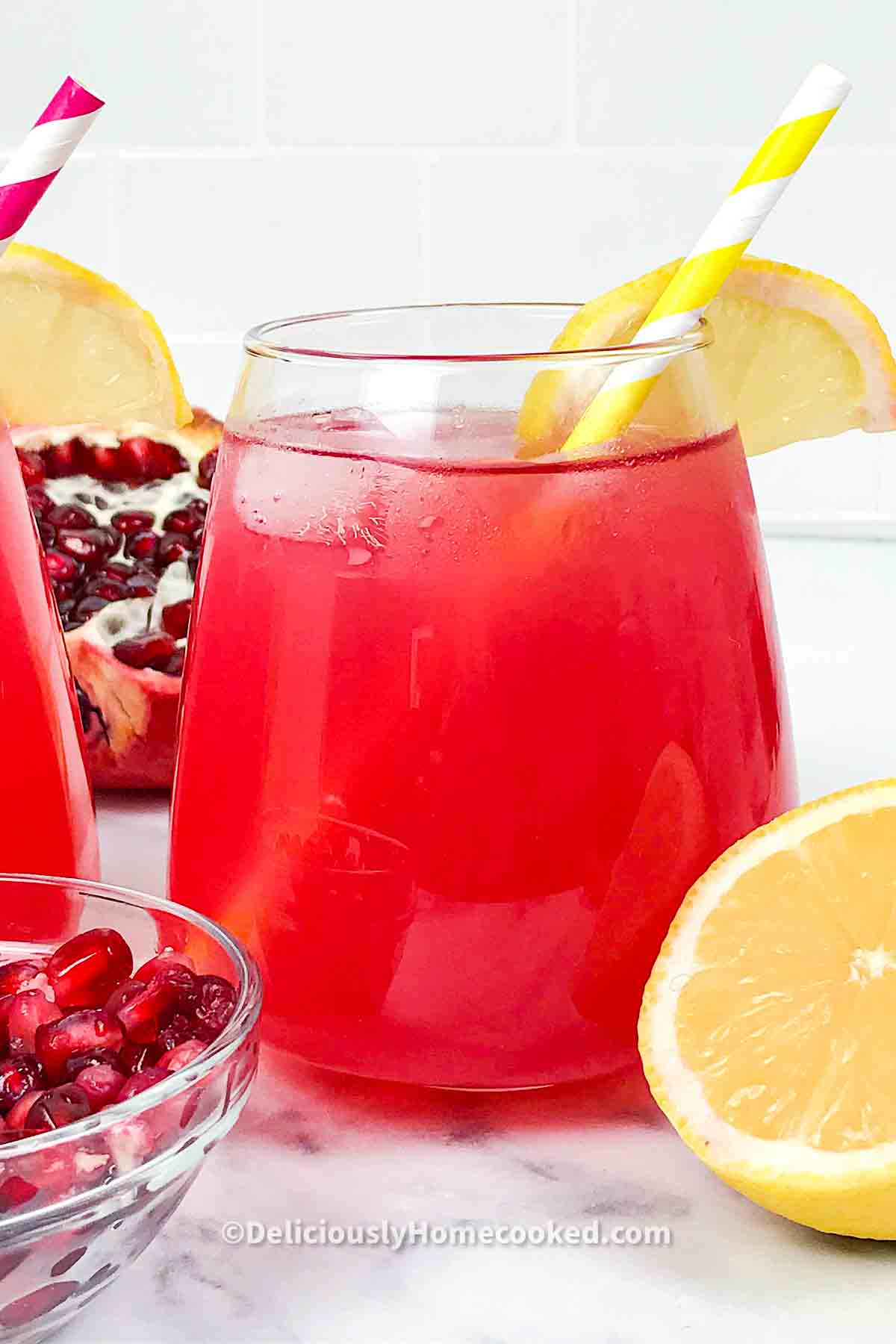 Homemade Pomegranate lemonade recipe.
Pomegranates are not in season during the summer however, you can find them in some grocery stores. They will be slightly more expensive than when in season but to honest this homemade pomegranate lemonade is worth the extra bucks.
This delightful holiday beverage combines the natural sweetness of pomegranates with the tangy zesty flavor of lemon giving you a refreshing juice that shines through in any occasion and will impress family and friends
Looking for more refreshing red juice recipes? You should check out our strawberry juice, strawberry lemonade, watermelon juice and watermelon lemonade recipes.
FAQs
Can I make the lemonade ahead of time for a party?
Absolutely! You can prepare the pomegranate lemonade a few hours before your party and refrigerate it until serving. Give it a good stir before serving to redistribute any settled ingredients.
Can I substitute sugar with a healthier sweetener?
If you prefer a healthier option, you can use honey, agave nectar, or low carb sweeteners such as Allulose or stevia instead of granulated sugar. Adjust the amount to your desired level of sweetness.
Can I make a larger batch of pomegranate lemonade for a crowd?
Definitely! Simply multiply the recipe's ingredients accordingly, ensuring you maintain the same ratios. You are likely to need multiple pitchers or a larger container to accommodate the increased quantity.
Can I use frozen pomegranate arils instead of juicing fresh pomegranates?
Yes, frozen pomegranate arils can be used in a pinch. Thaw them before extracting the juice or use them as a decorative garnish in your lemonade.
Can I use bottled pomegranate juice instead of fresh pomegranates?
Yes, you can use bottled pomegranate juice as a convenient alternative. However, fresh pomegranate juice adds a vibrant and authentic flavor to your homemade lemonade.
Highlights of this recipe
Bursting with Flavor: Pomegranate juice is a popular drink around the Thanksgiving, Christmas and Hanukkah holidays. This homemade pomegranate lemonade combines the luscious sweetness of pomegranates with the tangy kick of fresh lemons, resulting in an exotic flavor combination you can't resist.
Refreshing cooler: As temperatures rise, there's nothing more satisfying than a glass of ice-cold pomegranate lemonade to quench your thirst and keep you cool.
Health benefits: Pomegranates are packed with antioxidants, while lemons offer a boost of vitamin C, making this lemonade a healthy alternative to store bought juices or soda.
Ingredients
Pomegranate
Lemons
Sweetener of choice (choose from cane sugar, honey or sugar free sweeteners)
Water
Substitutions
Fresh pomegranate: Since pomegranates are generally not available during summer months or you may not find juicy pomegranates. You can substitute with pomegranate juice such as Pom pomegranate juice (👈 affiliate link).
Fresh lemon: You can substitute fresh lemons with store-bought lemon juice (👈 affiliate link). However I recommend using fresh lemons.
Sweetener of choice: Substitute sugar with brown sugar, honey for honey simple syrup, sugar free sweeteners such as monk fruit sweetener or Allulose (👈 affiliate links) which was used to make this sugar free lemonade
How to make homemade Pomegranate lemonade
This is an overview of the recipe with step by step photos. Scroll down to end of post for a printable recipe card with the amount of ingredients and full recipe instructions.
Using pomegranate arils and fresh lemon juice
Pour freshly squeezed lemon juice, 2 cups of water and sugar into a pitcher. Stir with a long cocktail stirrer (👈 affiliate link) until sugar dissolves. No need to make a simple syrup.
Add Arils and the remaining to the blender. Blend on pulse mode. Pour the roughly blender arils into a fine mesh over a clean bowl, to extract juice press the blended arils against the sieve with the back of the spoon till it's all drained. Pour in about half cup of water on the drained arils to rinse out any remaining juice.
Pour pomegranate juice into the lemonade in the pitcher. Add the rest of the water. Stir to combine. Refrigerator or serve immediately over ice.
Using store bought juices
This easier to do since you don't need to cut open a fresh pomegranate and get the seeds (arils) out. All that has been done for you.
When using ready made juices, simply mix the juices together, add sugar and stir till the sugar dissolves completely. Top up with water. Refrigerate or serve over ice and enjoy.
Storage instructions
In the refrigerator: Store any leftover pomegranate lemonade in a covered pitcher or carafe (👈 affiliate links) in the refrigerator for up to 3-4 days.
Freezing: If you want to enjoy the flavors later, freeze the lemonade in ice cube trays and use them to chill your water or drinks.
What to serve with pomegranate lemonade
Pomegranate juice can be enjoyed on it's own with ice cubes on a hot summer afternoon. It also goes well with a variety of meals such as this pink sauce pasta and boiled chicken thighs.
Pair your pomegranate lemonade with a refreshing summer salad.
Complement the tangy flavors with grilled/air fryer chicken skewers or veggie kebabs
You can also serve alongside fluffy pancakes, French toast, or a spread of fresh pastries for breakfast or brunch.
Helpful Tips
Adjust sweetness to your taste by adding more or less sugar. If you want your pomegranate juice less sweet and more tart, you can start with ¼ cup of sugar and add more as needed. If you want it sweeter start with ½ cup of sugar and add more as needed. A tablespoon at a time.
If you can, opt for freshly squeezed lemon and fresh pomegranates.
You can use alternative sweeteners such as honey, Monk fruit, or Allulose.
Play with the ratio of pomegranate juice and lemon juice. This recipe uses a 1½ : 1 ratio, feel free to use more of either juice.
Experiment with variations, you can add herbs like mint leaves, you can add a splash of vodka to make it an adult drink or you could use sparkling water instead of still water to give your pomegranate lemonade a bit of spritz!
Best served chilled.
How to cut and seed a pomegranate
Start by slicing off the crown (the top part). Next score the skin vertically along the ridges, in 4 places from top to bottom, being careful not to cut too deep into the seeds.
Gently pull the pomegranate apart along the scored lines. Hold each quarter over a large bowl, cut-side down, and tap the back with a wooden spoon to release the seeds (also known as arils).
Alternatively, you can submerge each half in a bowl of water and gently separate the arils with your fingers.
The seeds will sink to the bottom while the membrane floats to the surface. Once all the seeds are separated, scoop out the membrane with a sieve the man drain all the water to get the arils. Use in any recipe that calls for pomegranate arils.
More drink recipes to try
Thank you for visiting my Virtual kitchen! If you found this pomegranate lemonade recipe helpful, we value your feedback. Please leave a comment and star rating below and don't forget to share this recipe with family and friends.
Happy Cooking!
Love it? Pin it! then follow @DeliciouslyHomeCooked on Pinterest for more recipes!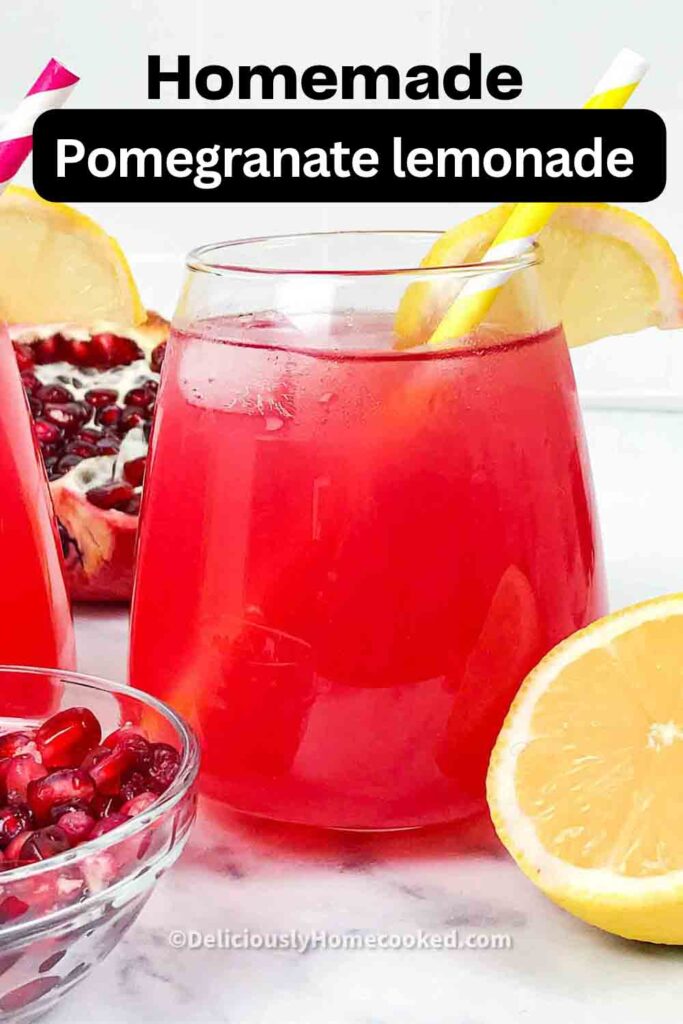 Looking for more tried and tested home-cooked recipes? Sign up for our Deliciously Home Cooked Newsletter and Follow along on Facebook, Instagram, Pinterest.
Homemade pomegranate lemonade (2 ways)
Pomegranate Lemonade is one of our favorite wintertime lemonades that we also enjoy during the summer. This easy lemonade with pomegranate is one you'll make over and over because you and your family would love the taste of this homemade exotic juice.
Ingredients
2

Cups

Pomegranate arils

(from 2 to 3 pomegranates)

1

Cup

lemon juice

(from 5 to 6 large lemons)

4

Cups

water

½

Cup

granulated sugar
Instructions
Using Arils and fresh lemon juice.
Add lemon juice and 2 cups of water in a pitcher stir till sugar dissolves.

Transfer pomegranate arils to a blender. Pulse blender 3 to 4 times. The aim is not to blend till smooth but to scratch the flesh of the arils off the tiny seeds.

Place a fine mesh sieve over a clean bowl then pour the blended arils into sieve. Use the back of a spoon to press the blended arils against the mesh to release the juice.

You can pour about ½ cup of water over the the arils to help extract more juice.

Pour the extracted juice into the pitchers with lemon juice and water, add the rest of the water, then stir to mix properly.

Place in the refrigerator to chill for up to 2 hours or serve immediately over ice.
Using store bought pomegranate juice and lemon juice
Use 1 ½ to 2 cups of pomegranate juice to 1 cup of lemon juice.

Mix the juices and sugar in a pitcher, add sugar to the juicer. Stir till sugar dissolves.

Pour the water into the mix and stir to combine.

Serve immediately over ice or chill for 2 hours before serving.
Notes
Adjust sweetness to your liking by adding more sweetener or less. If you want it less sweet, start with 6 Tablespoons of sugar then add more by tablespoons till you reach your desired taste. If you want it sweeter, start with ½ cup, taste and add more as needed.
Swap out the water with sparkling water to make it fizzy.
Pomegranates tend to stain so use dark colored towels to clean your work surface.
The time stated in this recipe is for when you use ready juices. If you will be deseeding and juicing the pomegranates and also cutting and juicing the lemons, it can take you up to 40 mins depending on how fast you can do these.
Nutrition
Calories:
178
kcal
Carbohydrates:
44
g
Protein:
2
g
Fat:
1
g
Saturated Fat:
0.1
g
Polyunsaturated Fat:
0.1
g
Monounsaturated Fat:
0.1
g
Sodium:
15
mg
Potassium:
257
mg
Fiber:
3
g
Sugar:
38
g
Vitamin A:
4
IU
Vitamin C:
32
mg
Calcium:
19
mg
Iron:
0.3
mg
Nutrition Disclaimer
Nutritional information is an estimate and may change based on products used. Please read our Nutrition disclaimer page for more details.