This boiled chicken thighs recipe is easy to make, quick and delicious. Whether you are cooking chicken for the family or for your pets (dogs) this delicious stovetop recipe has you covered.
Are you planning on making chicken thighs for dinner? Perhaps you are wondering how long to boil chicken or if it's a healthy option. Not to worry I'll not only answer these questions but will also walk you through how to cook it perfectly in easy steps.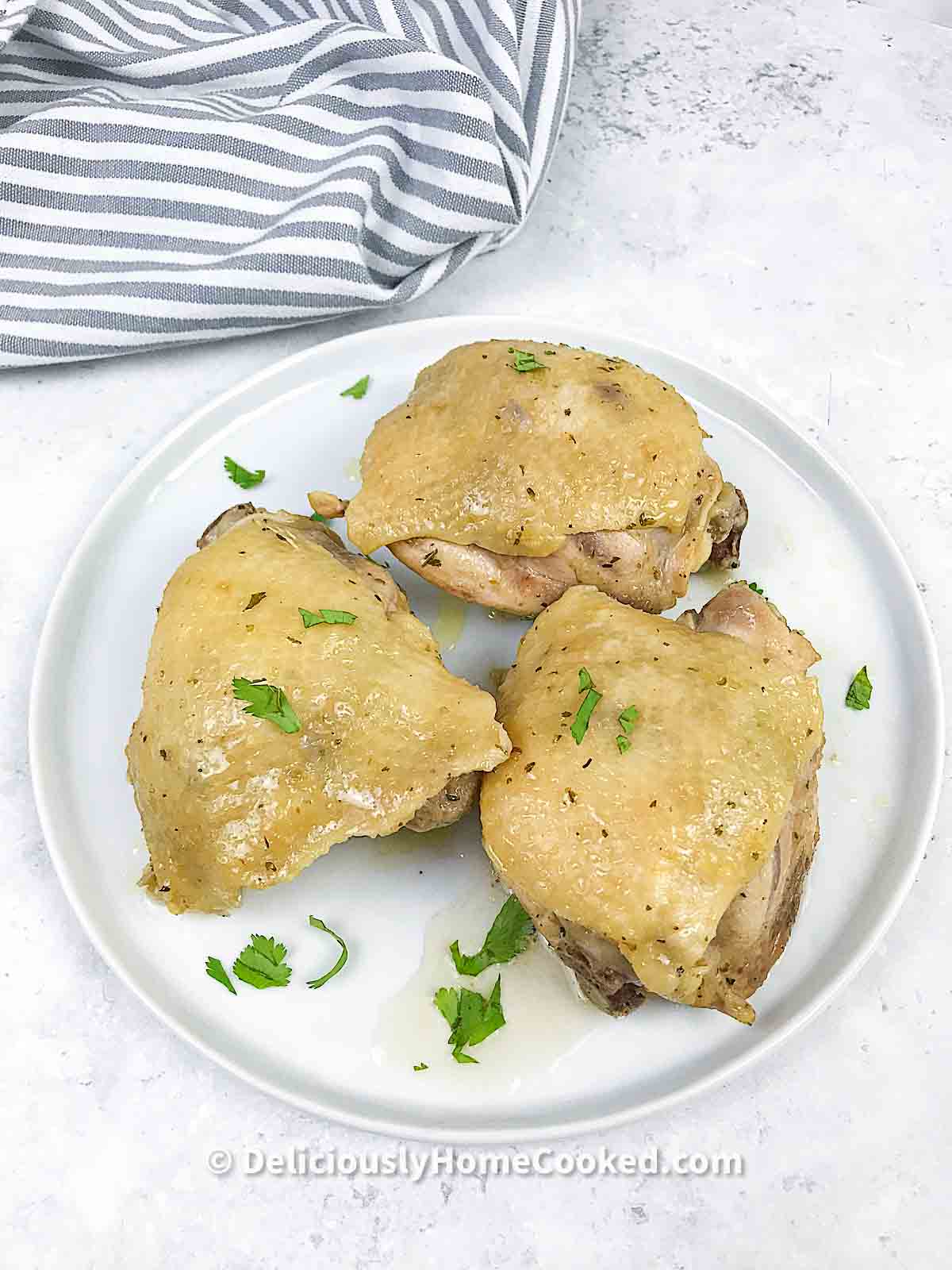 Easy boiled Chicken thighs recipe (How to boil chicken thighs)
Love juicy chicken? We do too. Boiling chicken thighs makes doesn't only make juicy chicken, they are tender, flavorful and requires just a few require which makes this a budget friendly option to cook for your family.
If you love crispy chicken, not a problem, these can easily be pan fried, air fried, broiled or grilled after boiling. Boneless or bone-in, this boiled chicken thigh recipe is family friendly and loved by everyone at home even my little picky-eaters.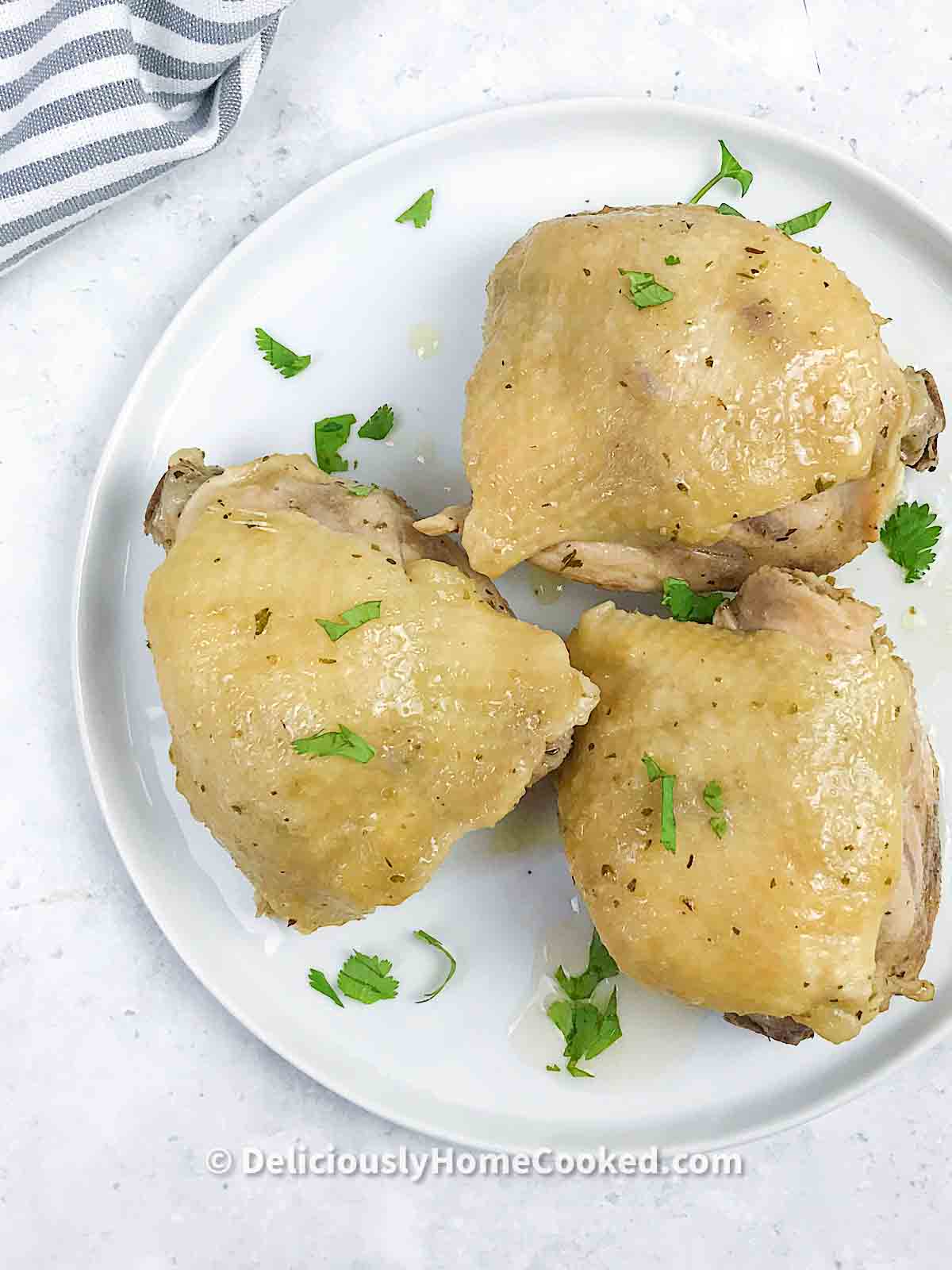 Why boiling chicken thighs would work.
Texture: boiled chicken whether thighs, wings, drumsticks, legs or chicken breast always yield a moist, juicy and tender meat. You can never go wrong with this method of cooking. The risk of getting dried out meat especially chicken breasts is greatly reduced with boiling.
Flavor: boiling chicken infuses the flavors evenly giving a well seasoned poultry.
Tenderizes: Boiling makes the meat tender making it easier for the little ones to enjoy.
Broth: boiling makes it possible to have abundant broth to cook any recipe that calls for broth.
Ingredients needed
Like I mentioned earlier this recipe requires a handful of ingredients, nothing fancy, Just simple everyday spices and herbs. A store bought or homemade chicken seasoning will work as well feel free to play around with different spices or sauces to suit your taste.
Bone in chicken thighs ( fresh or thawed)
Onions
Curry powder
Garlic powder
Thyme
Ground ginger
Parsley flakes
Dried Oregano
White pepper
How to boil chicken thighs
Wash chicken thighs and trim off excess skin and fat.
Put chicken in a large pot, add the spices, herbs and chopped onions then fill the pot with water up just above the level of that chicken in the pot. This is usually about 1-2 inches.
Cover the pot with the lid and boil the chicken thighs on medium high heat for 20 to 25 mins. You can set a timer for this to prevent the chicken from overcooking.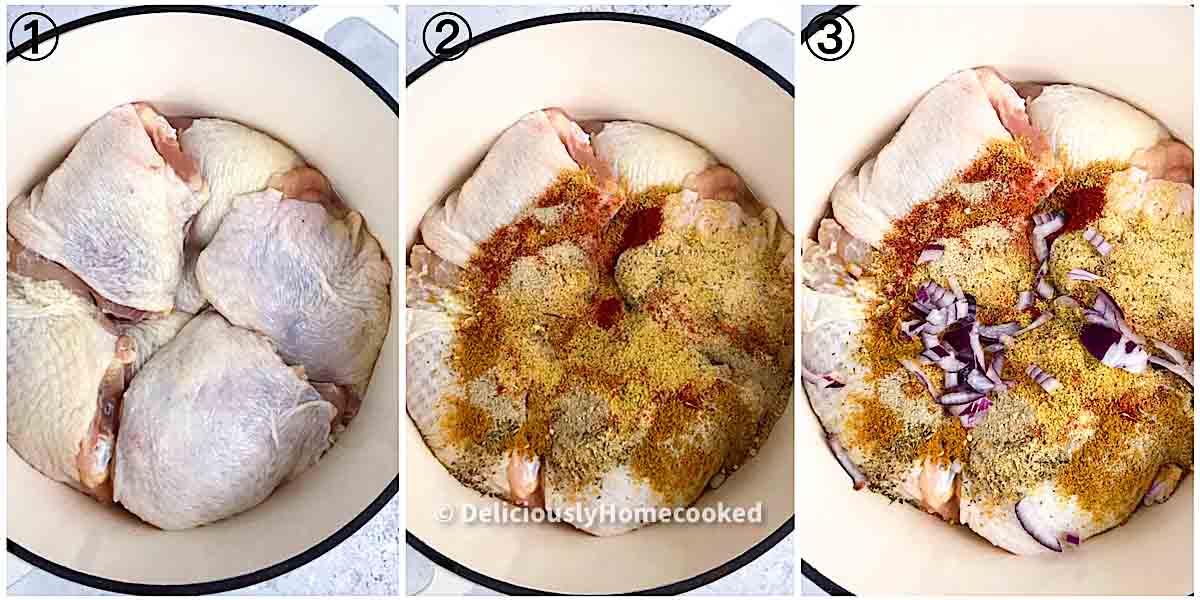 When the time is up, bring out one with a pair of kitchen tongs, place on a plate and check the internal temperature with an instant read thermometer. Fully cooked and safe to eat chicken should have an internal temperature of 165°F / 74°C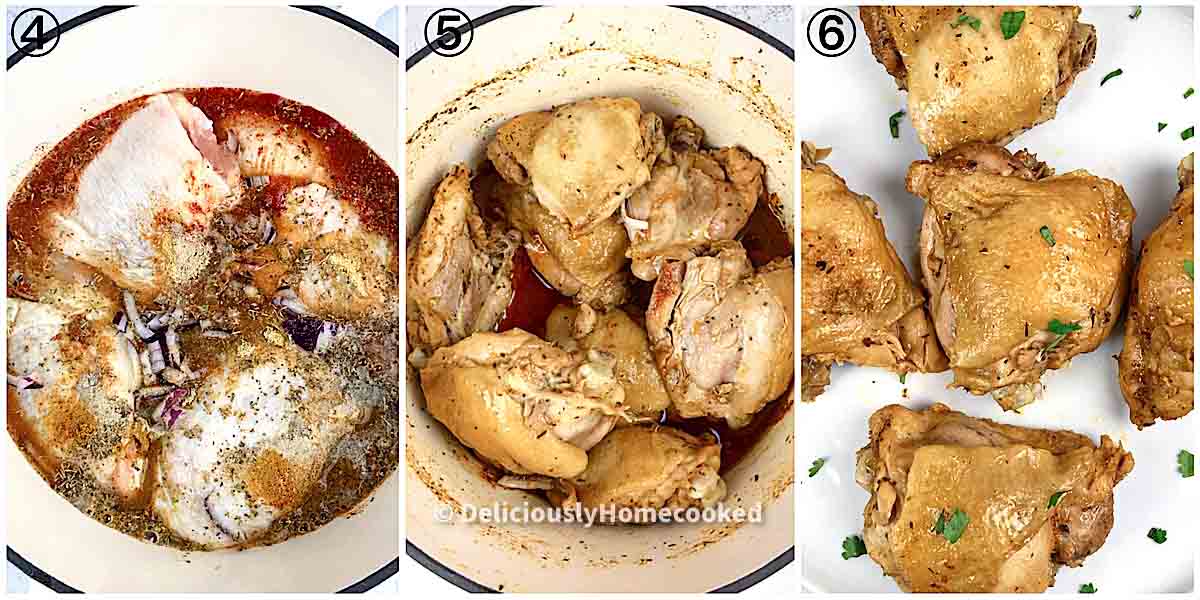 If it's fully cooked, get the rest of the chicken out and reserve the leftover chicken water aka broth for later use.
After boiling the chicken, you can serve as is or crisp it up on the grill, oven or air fryer. Place on a baking sheet and broil for 6 to 8 mins until golden and crispy or place in the air fryer basket and air fry at 400°F / 200°F for 5 to 6 mins.
How long to boil chicken thighs
How long it takes to boil chicken is dependent on a variety of factors which are listed below
Size: Bigger chicken pieces will take longer to cook than would smaller pieces. Bigger pieces of chicken bone in thighs will cook in 25 to 30 mins on the average while smaller pieces bone in will cook for 20 to 25 mins
State of chicken: Is it frozen or thawed? Fresh or thawed chicken would cook in less time than frozen chicken. For frozen chicken, add 5 to 10 mins to the cooking time above.
Type of cut: Is it bone in or boneless chicken? Boneless chicken will cook in less time.
Boiling in the Microwave.
Yes you can also boil chicken thighs in the microwave. However I would recommend cooking boneless chicken thighs in the microwave vs bone in.
Bone in would take longer and have a higher tendency to get rubbery by the time it's cooked through. Do not cook more than 2 or 3 chicken thighs at a time
Place chicken in a microwave safe bowl add water and seasoning, cover dish with a microwave splatter guard and cook on high power for 13 to 15 mins or until juice from chicken is no longer pink
Check with an instant read thermometer to ensure the temperature has reached 165°F / 74°C then let it rest for 3 mins before serving. If it hasn't reached the fully cooked internal temperature of 165°F / 74°C continue cooking at 2 minute intervals until fully cooked.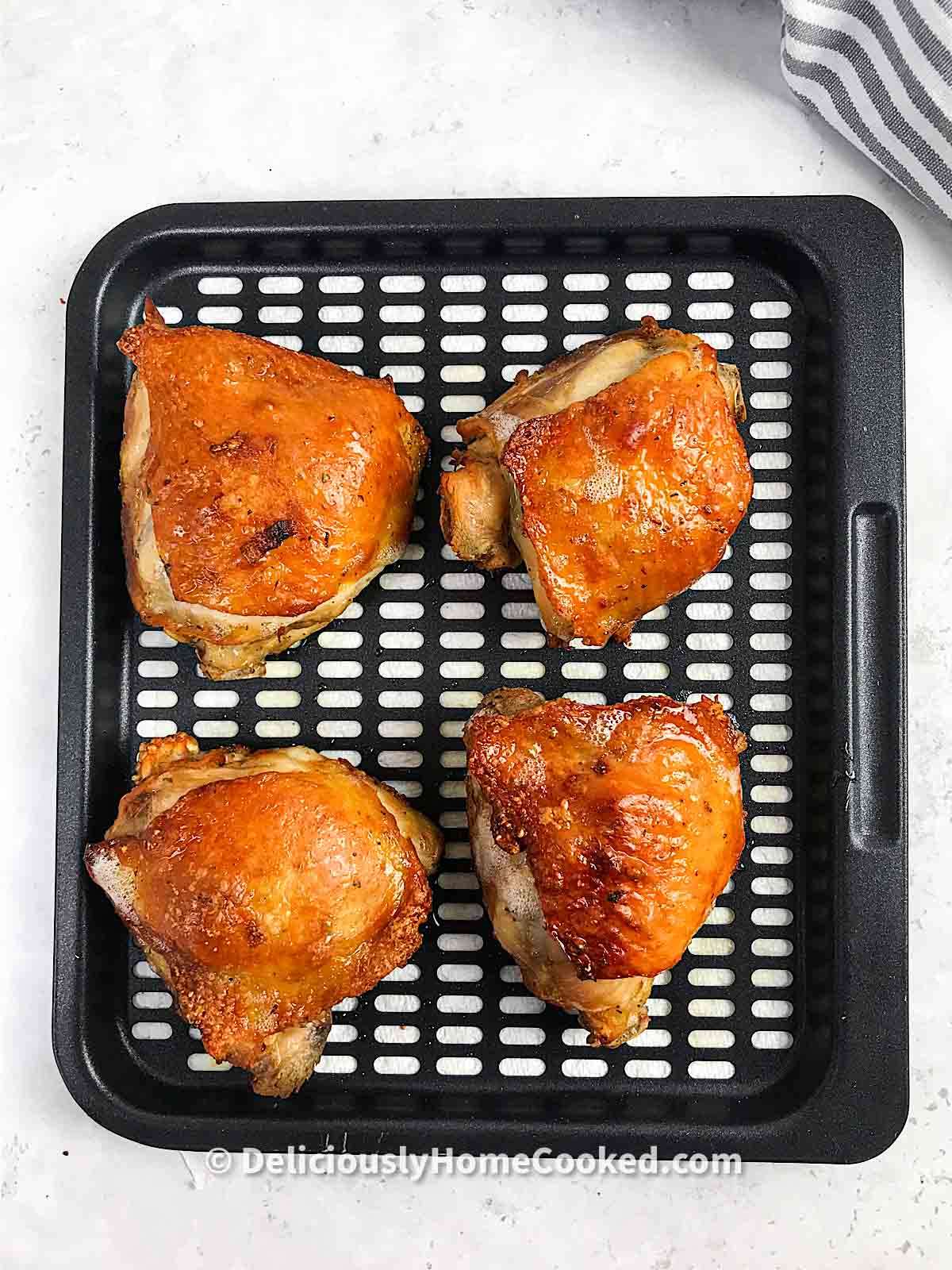 Variations
The beauty of boiled chicken thighs is that you can have them in many different ways.
Shred and use in sandwiches and salads
Glaze with your favorite in bbq sauce to give a pleasant kick to your taste buds.
Make crispy chicken out of it by simply grilling them to dive into the magic of crispy skin-on chicken thighs. Hungry yet? What are you waiting for? Go ahead and give this insanely delicious recipe a try today.
How to serve boiled chicken thighs
Chicken thighs are very versatile; they can go well with any flavor profile. Be it creamy baked potatoes, roasted veggies, or pasta, You really can't go wrong with this.
Pair it up with Baked garlic herb potato wedges because neither can you resist fries nor thighs. Ha ha ha
Try it with your favorite rice dishes like cilantro lime. Or a side of veggies to keep it simple and low carb.
If you have four legged babies? Dogs and cats love chicken. Shred this boiled chicken and add it to your per's food.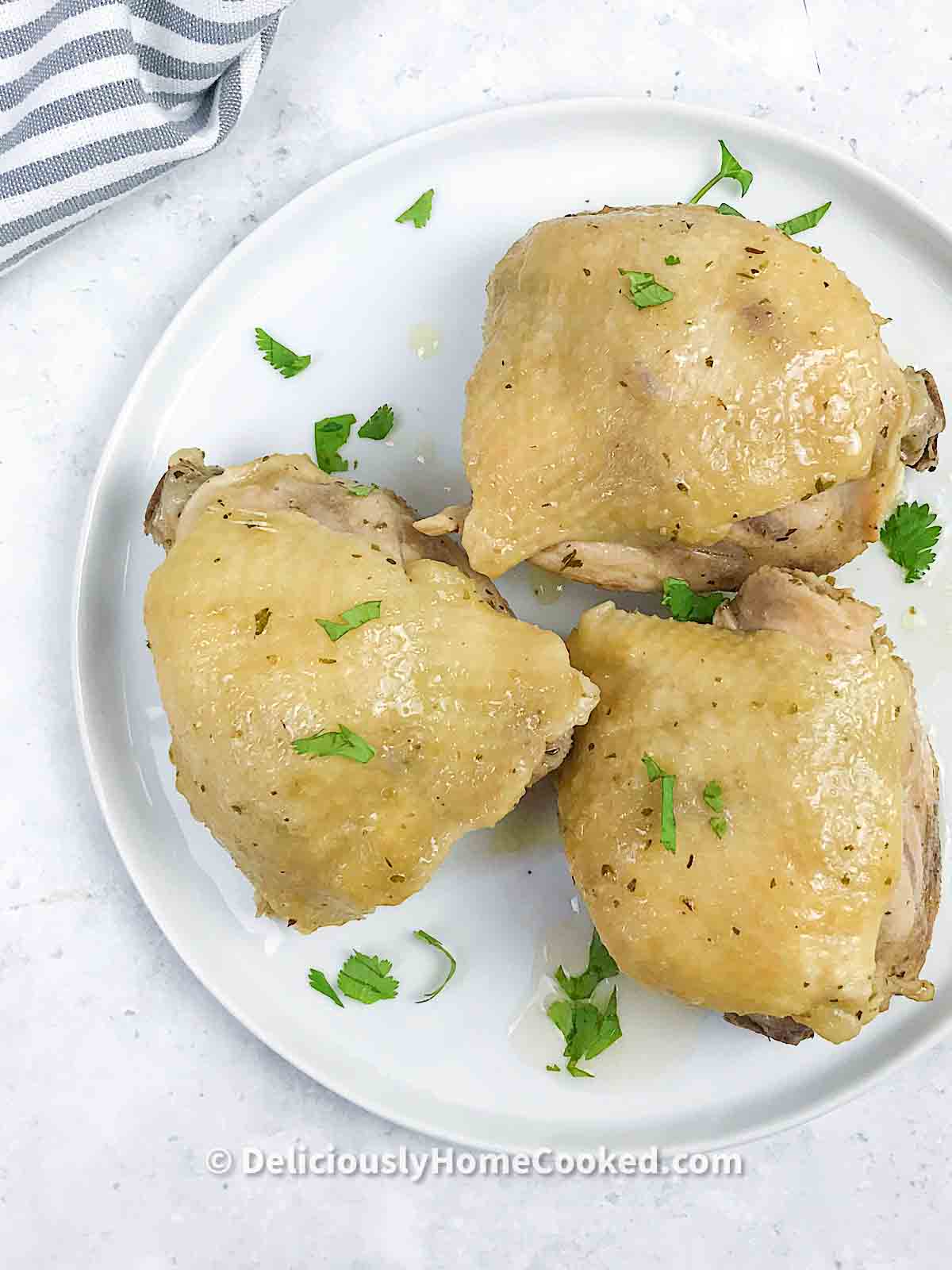 How to store
Before storing, let the meat cool completely then store made ahead or leftover chicken thighs in airtight containers. It will keep in the refrigerator for up to 3 days you can also freeze for longer storage.
They can be used up to 5 days if you keep them in the refrigerator and if you want to store them for a longer period freeze them for up to 6 months.
Can you freeze cooked Chicken?
Yes you can freeze cooked chicken. Let the boiled chicken cool to room temperature after cooking. Place in a clean air tight container or preferably in a freezer bag.
If using a freezer bag like a ziplock bag, try to expel as much air as possible then freeze for up to 3 months.
How to reheat
If you are using the stovetop, put little water in the pot with the thighs and let the steam work for you. Steam them for 5 minutes or until thoroughly heated. This way chicken thighs remain tender and juicy.
You can also use a microwave oven or air fryer. Heat them in the oven or air fryer for 3 to 5 minutes. Watch out so they don't get dry.
Home cooking tips
Though you can definitely boil frozen chicken, I would recommend making this recipe with fresh or thawed chicken
The water should be slightly salty to ensure the meat is well seasoned. Since it's liquid the meat is unlikely to be salty. The trick is that the water should be slightly salty than normal.
Try to use similar sized chicken so all pieces can cook evenly and at the same time.
Use a larger pot to avoid overcrowding and for even cooking. The water should be at least 2 inches up from the thighs so that it won't get dry during the cooking process.
It's important to cook chicken properly to avoid food poisoning and other food-borne illnesses. It should be cooked to an internal temperature of 165°F / 74°C
If boiling chicken thighs for dogs, salt and water is fine no need for extra spices and herbs.
FAQs
Are boiled chicken thighs healthy?
Chicken thighs are a good source of lean protein and chicken is usually healthy option for many. Boiled chicken is not as fatty as deep fried chicken so may be a healthier option when choosing your meals.
What makes my boiled chicken rubbery?
Overcooking can make chicken rubbery but is less likely to occur when boiling chicken on the stove top and in liquid. However keep an eye on microwave chicken. Because of the way the microwave cooks food, it's more likely to get rubbery when over cooked.
Can we use the chicken water after boiling?
Cooked Chicken water is what we know as stock or broth. It is very tasty and elevated the flavor profile of many recipe from pasta to potatoes to rice or gravy. Be sure to reserve for later use. Do not throw away. It also freezes very well.
Do you cover chicken thighs when boiling?
You should cover chicken thighs when boiling. This will build steam and help the chicken cook faster and evenly.
Can we lose weight with boiled chicken thighs?
Chicken is typically incorporated in a healthy diet since it is lean meat with little fat. Thus, eating chicken with low carb or low calorie sides may help you loss weight.
More deliciously home cooked recipes to try
Thank you for visiting my Virtual kitchen! If you found this recipe helpful, please leave a comment below and don't forget to share this recipe with family and friends.
Happy cooking!
Love it? Pin it!
Looking for more tried and tested Home-cooked recipes? Sign up for our Deliciously Home Cooked Newsletter and Follow along on Facebook, Instagram, Pinterest
If you love Easy recipes Join our Deliciously Home cooked Recipes group on Facebook!
Boiled chicken thighs recipe (How to boil chicken thighs)
This boiled chicken thighs recipe is easy to make, quick and delicious. Whether you are cooking chicken for the family or for your pets (dogs) this delicious stove top recipe has you covered.
Equipment
Stainless steel pot or Dutch oven with lid

Chopping board

kitchen tongs
Ingredients
2 ½

lbs

Bone-in or boneless skinless chicken thighs washed and trimmed

(about 5 - 6 small thighs or 4 large thighs)

1

medium onion

chopped

I teaspoon garlic powder

½

teaspoon

ground ginger

½

teaspoon

dry thyme

½

teaspoon

oregano

½

teaspoon

parsley flakes

1

teaspoon

chicken bouillon

¼

teaspoon

salt or to taste

¼ - ½

teaspoon

white pepper
Instructions
Place chicken thighs in a pot, add the seasoning, then add the water. Stir to mix in seasoning.

Cover pot and cook chicken on medium heat for 20 to 25 minutes. Use a kitchen timer if you have one.

When time is up, check chicken if chicken is fully cooked. It should read 165°F / 74°C on an instant read meat thermometer. If it doesn't, cook for another 5 mins and check again

When Chicken is fully cooked, remove from water and use. Reserve the chicken water aka stock / broth and use in any recipe that calls for broth.
Notes
Similar sized chicken thighs would cook more evenly.
Large chicken thighs will take longer to cook than small thighs.
Cover pot with lid while cooking. It will help chicken cook faster and evenly.
Boneless skinless chicken thighs will cook faster than bone in. See blog post above for more tips.
Nutritional facts
Serving Size:
1 piece
| Calories:
370 kcal
| Total Fat:
14.1g
| Saturated Fat:
3.9g
 

| Cholesterol:
168mg
| Sodium:
266g
| Total Carbohydrates:
2.5g
| Dietary Fiber:
0.7g
| Total Sugars:
0.9g
| Protein:
55g
| Calcium:
38mg
| Iron:
3mg
| Potassium:
504mg
Nutrition
Calories:
370
kcal
Carbohydrates:
1
g
Protein:
1
g
Fat:
1
g
Saturated Fat:
1
g
Polyunsaturated Fat:
1
g
Monounsaturated Fat:
1
g
Sodium:
4
mg
Potassium:
10
mg
Fiber:
1
g
Sugar:
1
g
Vitamin A:
21
IU
Vitamin C:
1
mg
Calcium:
5
mg
Iron:
1
mg
Nutrition Disclaimer
Nutritional information is an estimate and may change based on products used. Please read our Nutrition disclaimer page for more details.