It's that time of the year to make these festive Christmas Rice krispie treats. These cereal bars are a classic and easy no-bake dessert that's perfect for the holidays. Their sweet marshmallow flavor and crisp, chewy texture make them a hit with kids and adults alike. Adding some Christmas flair takes this popular snack up a notch, making it even more fun to make and share.
Love Christmas cereal treats? You should try our Reindeer Rice Krispie treats and Snowman Rice Krispie treats too.
Homestyle Christmas Rice Krispie treats Recipe
Christmas rice crispy treats are a holiday favorite that's loved by everyone. We love that it's easy to make and can be customized to suit individual palates.
With this fun desert, you can get the little ones to help with choosing the various add ins that can be used not with the mixing just yet as the marshmallows will be hot right after melting them in butter on the stove or microwave.
Make sure Keep a batch on hand for Santa on Christmas Eve or as an easy dessert for holiday parties. The classic flavor satisfies all season long.
Why we love this
Festive holiday colors: With just red and green sprinkles, m and ms or colored sugar you can transform ordinary rice krispie treats into a perfect Christmas dessert. tree-shaped snacks.
Fun shapes: while I made this in the traditional squares, you can use cookie cutters to cut out fun shapes like Christmas trees, ornaments, stars and stockings, shaping rice krispie treats into different Christmas motifs makes them even more enjoyable.
Easy to customize: Add some crushed candy canes, or drizzled chocolate to match the season. Like our 4th of July Oreos, you can make these for any holiday by using the holiday sprinkles matching the specific holiday you are celebrating.
Kid-friendly cooking activity: Making rice krispie treats is a fun and safe cooking project for kids with supervision. Let them help with adding the sprinkles and cutting out shapes with cookie cutters.
Ingredients
Salted butter
Mini marshmallows
Pure vanilla extract
Rice Krispies cereal
Christmas themed nonpareils
Optional decorations if making reindeer Christmas Rice Krispies
Mini pretzel twists, for the antlers
Candy eyes
Red and brown M&M's, for the nose
Red candy melts, for the scarf
How to make it
This is an overview of the recipe with step by step photos. Scroll down to end of post for a printable recipe card with the amount of ingredients and full recipe instructions.
Line the 9x13 inch baking pan and set aside.
Melt butter then add the marshmallows reserving 1½ to 2 cups for later. Stir until just melted.
Remove from heat, stir in the vanilla extract before folding in the Rice Krispies cereal. Next fold in the reserved marshmallows and the nonpareils.
Transfer mixture to the lined baking pan. Press it down with a greased spatula or you cover the top with parchment paper or wax paper then press it down with your palms.
Decorating Christmas Rice Krispie treats
You can leave these as is with a variety of minimal decorations like Christmas themed sprinkles, m and ms or the nonpareils used in this homestyle Rice Krispie treats recipe.
Alternatively go a step further and decorate with candy melts to make reindeer or snowman cereal treats. For the reindeer version, follow the steps below.
Melt candy melts in the microwave (30 secs interbank till it's melted). Next dip the top of each rice krispie treat bar into the melted candy, coating just the top. Place on the lined tray with the chocolate side up.
Add two pretzels to the top corners for antlers, two candy eyes, and an M&M for the nose.
Melt ⅓ cup red candy melts in a microwave-safe bowl on low power, stirring every 30 seconds until smooth. Transfer to a piping bag.
Let the candy melts cool slightly. Snip off the end of the piping bag. Pipe a scarf onto each rice krispie bar.
Substitutions
Cereal: Use a different cereal like Fruit loops, cheerios, lucky charms or cocoa Krispies are great substitutes to regular Rice Krispie treats.
Marshmallows: We used mini marshmallows feel free to use regular sized or jumbo sized marshmallows.
Variations
Here are a few variations to help customize these crispy treats for the holidays.
Peppermint: Add crushed peppermint candies or candy canes to the mix
Chocolate chips: throw in some mini chocolate chips (👈 affiliate link) to when you add the reserved marshmallows to make some chocolate chip Rice Krispie treats.
Eggnog: Use egg nog flavor (👈 affiliate link) in addition to the vanilla for a more festive taste.
Gingerbread: Add gingerbread spice mix when melting the butter and marshmallow to infuse some gingerbread flavors to the cereal treats.
Make it gluten free: swap out the Rice Krispie treats in this recipe with a certified gluten free one.
Make it dairy free: swap out the butter with solid coconut oil or vegan butter and make sure to use dairy free mix-ins and dairy free chocolate (👈 affiliate links) for decorating.
Recommended tools for this recipe
The links below may contain affiliate links. As an Amazon associate and affiliate to other merchants, this website may earn from qualifying purchases. Please read our full disclosure
Large pot
9 by 13 in baking pan
Baking tray
Parchment paper
Piping bag
Storage instructions
Store completely cooled treats at room temperature in an airtight container for up to 5 days. For longer storage, freeze rice krispie treats in a freezer bag for up to 3 months. Ensure all the air is pushed out.
FAQs
Are Rice Krispie treats safe for kids to make?
Yes, with supervision from an adult. Have kids help with mixing and shaping the treats, but adults should handle the hot ingredients.
Can I make rice krispie treats without butter?
Yes, you can omit the butter, but the butter helps the cereal adhere and gives a smooth, velvety texture. You can swap it out for margarine or shortening instead of leaving it out all together.
What if my Rice Krispie treats don't harden?
Be sure to cool treats fully before cutting. Over-mixing can crush the cereal and make the cereal treat dense and less crispy. If after 30 mins to an hour, they are still soft and sticky, try adding more cereal to the mixture. This means you will need to fold the cereal in over again.
Are Rice Krispie treats gluten free?
Rice Krispie treats that are made with regular Rice Krispie cereal are not gluten free.

While Rice on it's own is naturally gluten free, the cereal is made with malt flavor which isn't gluten free. To make sure that your cereal treats are gluten free, use a rice cereal that's gluten free.

With that said make sure to read the labels of all the ingredients to ensure it's gluten free and made in a gluten free facility.
Helpful Tips
Use fresh marshmallows for gooey, pillowy texture. Avoid stale marshmallows.
Allow it cool fully before cutting for clean edges that hold their shape.
Lightly butter hands while shaping for easy release without sticking. (This is for when you are molding into shapes not using cookie cutters or a knife)
Customize with any festive candies, sprinkles, nuts, or dried fruits.
Substitute for gluten-free cereal.
More holiday recipes
Instant pot cranberry sauce
Chicken marsala without wine
Chin chin
Air fryer thumbprint cookies
Check out all our Home Cooked Recipes!
Santa will love finding these homemade Christmas rice krispie treats ready to enjoy on Christmas Eve. Kids will have a blast helping make and decorate these festive holiday snacks. With just a few simple ingredients and steps, you can easily whip up a batch of these crispy, customizable treats to celebrate the season.
Thank you for visiting my Virtual kitchen! If you found this recipe helpful, please leave a comment below and don't forget to share this recipe with family and friends.
Happy Cooking!
Love it? Pin it! Remember to follow @DeliciouslyHomeCooked on Pinterest for more recipes!
Looking for more tried and tested Home-cooked recipes? Sign up for our Deliciously Home Cooked Newsletter and Follow along on Facebook, Instagram, Pinterest.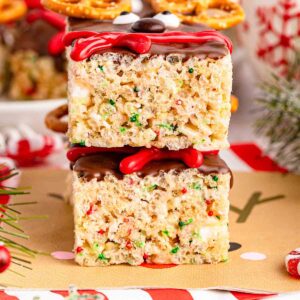 Christmas Rice Krispie treats
It's that time of the year to make these festive Christmas Rice krispie treats. These cereal bars are a classic and easy no-bake dessert that's perfect for the holidays.
Equipment
Large pot

9x13 baking pan

Baking tray

Parchment paper

Piping bags
Ingredients
1

stick

Salted butter

16

ounces

mini marshmallows

(divided)

1

teaspoon

pure vanilla extract

¼

cup

red,white and green nonpareils

8

cups

Rice Krispies cereal
Instructions
Line a 9 by 13 in baking pan with parchment paper and set it aside.

Melt the butter in a large saucepan over low heat. Reserve 1 ½ to 2 cups of marshmallows then add the rest and stir constantly until just melted. (about 2 to 3 mins) Remove from heat and stir in the vanilla extract.

Add the rice krispies, reserved marshmallows and nonpareils to the melted marshmallow mixture and fold in until fully coated.

Transfer to the 9x13 in pan then press the mixture evenly into a using a spatula or wax paper or parchment paper.

Decorate the top with more of the nonpareils while still warm and sticky.

Allow to fully cool and set, about 30 minutes to an hour.

Cut into squares and enjoy! Store leftovers in an airtight container at room temperature.
Notes
You can use this basic recipe to make all kinds of fun shapes and designs with the nonpareils on top. Get creative, it's a festive treat for holiday parties or gifts.
To help the parchment paper stick, you can  spray the bottom of the pan with cooking spray to help keep the parchment paper in place, do not spray the top side of the parchment paper.
Nutrition
Calories:
208
kcal
Carbohydrates:
37
g
Protein:
2
g
Fat:
6
g
Saturated Fat:
4
g
Polyunsaturated Fat:
0.3
g
Monounsaturated Fat:
2
g
Trans Fat:
0.2
g
Cholesterol:
16
mg
Sodium:
151
mg
Potassium:
22
mg
Fiber:
0.1
g
Sugar:
19
g
Vitamin A:
1182
IU
Vitamin C:
9
mg
Calcium:
3
mg
Iron:
5
mg
Nutrition Disclaimer
Nutritional information is an estimate and may change based on products used. Please read our Nutrition disclaimer page for more details.